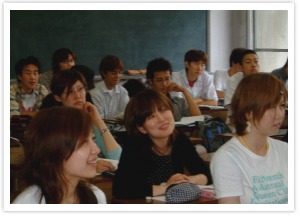 Course Overview
This course, Intermediate Chinese 2, aims to raise students' level of Chinese literacy to a point where they can comprehend simple sentences, and read relatively complex sen-tences with the help of a dictionary. Using grammar and vocabulary learnt in the lesson, students will learn how to use the Chinese style of narrative similar to the written language, necessary for giving a simple speech in a public place. At the same time, students will raise their listening and conversation skills through practice.
Key Features
Giving students free rein
The objective of this course is to refine students' skills in Chinese in four aspects: reading, writing, speaking and listening. However, because the needs of individual students differ from student to student, students are taught the necessary basic knowledge of Chinese, and given basic training in how to improve their Chinese proficiency according to their own personal goals. Asides from the example of the class objective, students are expected to set their own goals according to their needs.
The syllabus as a guide - but not always
The syllabus should not be set in stone. Rather, it is better if it is changed in accordance with the needs and characteristics of the class. In my classes, a syllabus does exist, but it may be changed several times over the semester, adapting to the way in which the class progresses.
Pre-lesson studies and assignments
Students of this class tend to do their pre-lesson studies without being told to do so, along with some extra assignment papers I give out in the lesson. One could say that the classes progress in an ideal way. In order to avoid hindering students' progress, assignments are cut down to minimal amounts. (In their first year, I taught them to memorize things during lessons. The amount of homework is also reduced, to help students concentrate better in lessons.)
Experiencing the fun of learning foreign languages
The majority of students already have the basics of learning foreign languages, so there is little need to overload them with materials in the lesson. This course places emphasis on knowing the existence of foreign languages which operate on a system different from that of English, on learning how to use it, and on experiencing the fun of using them. I sometimes invite Chinese students to my classes and let them converse with other students in Chinese, giving them an opportunity to use the language they have been learning, and to experience the Chinese language as used in daily life, hopefully boosting students' will to study Chinese further.
Students Accomplishments
One objective of this course is for students to be able to read, with the help of a dictionary, newspapers and treatises in Chinese.
Course Aims
The aims of this course are as follows:
To acquire the basic reading skills necessary for reading newspapers and other material written in Chinese, essential for students' studies in their third year and beyond.
To acquire basic expressions used in normal conversations.
Course Contents
Following the Chinese course in the previous semester, students will review previously learned grammar and improve their reading, listening, speaking and writing skills through the textbook and a wide variety of related exercise materials. In addition to such exercises, there will be sessions in which students, impersonating characters from Chinese movies, read aloud the lines in the movie in an effort to understand the Chinese spoken language, and acquire the rhythm and intonation used by native speakers.
Course Schedule
Classes will proceed according to the textbook. Each chapter takes approximately two sessions to complete.
| Session | Contents |
| --- | --- |
| 1 | Review of the previous semester |
| 2 | Chapter 7 |
| 3 | Chapter 8 |
| 4 | Chapter 9 |
| 5 | Chapter 10 |
| 6 | Chapter 11 |
| 7 | Chapter 12 |
| 8 | Summary, Review |
Lecture Video
Lecture Handouts
Below is a sample of the textbook used in this class. Click on each picture to enlarge.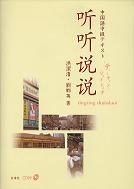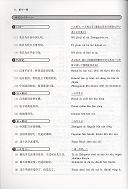 Assignments
Listening and conversation exercises from the text book to be completed after each session.
Grading
Grading will be based on the final examination (50%) and overall performance in class (50%).
---