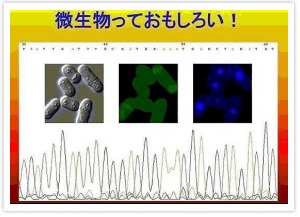 Course Overview
Yeast (eukaryotic microorganisms) does not only play an important role in fermentation and the brewery industry, they are also valuable material for research in understanding the basic ideas of biological phenomena and associated molecular mechanisms. In addition, they serve as model systems in research of higher organisms such as humans. By introducing and explaining the biological facts gained from yeast research, this course aims to further basic, fundamental knowledge on biological phenomena.
Key Features
Although this course uses presentation slides, use of the blackboard is necessary for supplementary explanations. Copies of the slides will be handed out to students at the beginning of each session. Important points and supplementary information will be written on the blackboard.
Below are the points of each session.
Instructor will enter the room early (up to 10 minutes before scheduled session time) and begin preparations for the lecture, including cleaning the blackboard and turning on the air conditioning. After that, lessons will begin on schedule.
At the beginning of the session, a few minutes are set aside to review the previous session and its main points. This helps students to understand the connection between this lesson and the previous one.
It is difficult for anyone to maintain concentration for a full 90 minutes. During each session, the instructor will give a short break and some small talk, mainly personal. From what I have heard from students, some seem to remember those short talks more than the lessons themselves.
At the end of the session, the instructor will take a few minutes for a Q&A session, plus make comments on the next session.
Contents
The course is a lecture on yeast and related microbes.
Textbooks
None required. Handouts will be provided by the instructor.
Molecular Biology of The Cell, 4th revised edition, Newton Press
Brock Biology of Microorganisms, Ohmsha
Course Schedule
| Session | Contents |
| --- | --- |
| 1 | Yeast and its Research |
| 2 | Lifecycles of Yeast |
| 3 | Genome Size and Genetic Information |
| 4 | The Replicon |
| 5 | Chromosome Segregation |
| 6 | Gene Structure and Expression |
| 7 | General Transcription Factors |
| 8 | Structure and Function of Gene Activator Proteins (DNA-Binding Domains) |
| 9 | Structure and Function of Gene Activator Proteins (Transcription-Activating Domains) |
| 10 | Chromatin Structure and Gene Expression |
| 11 | Mating (Mating Factors and Signal Transduction) |
| 12 | Mating (Mating-Type Switch) |
| 13 | Cell Division Cycle |
| 14 | Regulation of Cell Cycle |
| 15 | Aging and Lifespan in Model Organisms |
Lecture Handouts
Note: All files are in Japanese
Session 1
Sessions 8-9
Sessions 11-12
Sessions 13-14
Session 15
Grading
Grading will be based on the final examination.
Instructions for studies
Be sure to review what you have learned after every session.
---