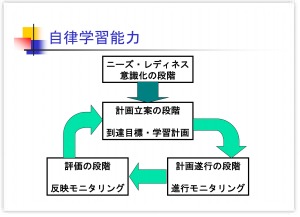 Lecture Aims
The purpose of this lecture is to gain a clear understanding of the goals and concepts of language teaching, from the point of view of the cognitive approach based on SLA, and the socio-cultural approach based on social constructivism.
Key Features
For Japanese language learners today, the ways of learning Japanese and the learning environment have diversified; so it is important for Japanese language teachers to have firm views on language competence, learning and teaching.
Students with various background attend this lecture. Some students already have rich experience in teaching Japanese, and some have no experience of teaching but much of learning foreign languages.
In the lectures, several open-ended questions are given to encourage full, meaningful answers using the students' own experience and/or knowledge. This lecture is designed to form each student's views of language competence, learning and teaching through these discussions.
Textbooks
Appropriate textbooks will be introduced in the lecture.
Important points for attendance
Reading comprehension of materials, debate, and preparation of reports will take place in the lessons, giving serious consideration to discussion, and resolution of concerns raised in the presentation process.
Fundamental knowledge of concepts should be gained beforehand, by studying the following material:
References
Canale, M. (1983) "From Communicative Competence to Communicative Language Pedagogy". in Richards, J. C. & Schmidt, R. W. (eds.)

Language and Communication

. pp.2-27.
Bachman, L.F. (1990) "Communicative Language Ability",

Fundamenttal Considerations in Language Testing

. pp.81-110.
Assignments
Term Paper(PDF, 78KB)
Coure Schedule
| Session | Contents |
| --- | --- |
| 1 | Orientation |
| 2 | The Paradigm shift in Japanese Language Teaching 1 |
| 3 | The Paradigm shift in Japanese Language Teaching 2 |
| 4 | The Paradigm shift in Japanese Language Teaching 3 |
| 5 | A View of Competence 1; Communicative competence 1 |
| 6 | A View of Competence 1; Communicative competence 2 |
| 7 | A View of Competence 2; Communicative language ability in communicative language use competence 1 |
| 8 | A View of Competence 2; Communicative language ability in communicative language use competence 2 |
| 9 | Mid-term Exam & Feedback |
| 10 | A View of Competence 3; Interactional Competence 1 |
| 11 | A View of Competence 3; Interactional Competence 2 |
| 12 | A View of Competence, learning and teaching in the language classroom 1 |
| 13 | A View of Competence, learning and teaching in the language classroom 2 |
| 14 | A View of Competence, learning and teaching in the language classroom 3 |
| 15 | A View of Competence, learning and teaching in the language classroom 4 |
Lecture Handouts
Grading
Subject Report (40%), Exam (40%), Participation and performance in lessons (20%)
---