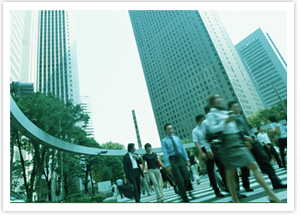 Course Aims
After graduating from university, most people will get a job and become a part of an organization. Knowing about the psychological background and mechanism of organizations and the industry, in this case, may prove useful in the near future, because having such a viewpoint may provide better understanding of the organization and its behavior. In this course, we will look at industries and organizations from a psychological angle, and understand its nature.
Key Features
To give students an image of the many events in the industry, I added many examples and also some actual experiences by the students themselves.
I used articles from newspapers and such to introduce as many up-to-date social topics as possible.
I had the students share each other's ideas by having them speak up in class.
At the end of each lesson, the students are given a sheet of paper on which they can write comments and ask questions freely. Along with giving me an idea of their comprehension and their interests, it helps me adjust the course composition accordingly.
Course Requirements and Recommended Courses
None
Resources will be shown accordingly during class.
Course Schedule
| Lesson | Contents |
| --- | --- |
| 1 | Guidance (briefing on course contents, progress, evaluation) |
| 2 | Work motivation (1) |
| 3 | Work motivation (2) |
| 4 | Work motivation (3) |
| 5 | Work motivation (4) |
| 6 | Personnel evaluation system |
| 7 | Human Resource Management (1) |
| 8 | Human Resource Management (2) |
| 9 | Human Resource Management (3) |
| 10 | Leadership (1) |
| 11 | Leadership (2) |
| 12 | Leadership (3) |
| 13 | Stress at workplace |
| 14 | Anti-stress support |
| 15 | Summary / Comprehension test |
Lecture Handouts
No.1 Guidance
Contents:What to expect in this class
No.2 Work motivation (1)
Contents:Scientific Management and Hawthorn's research
No.3 Work motivation (2)
Contents:
Video (NHK special program 5/22/2001 From a mass-production conveyor-belt type production system to a multi-task or one-man assembly system, Know where production goes on, Discuss the incentives of those who appeared on the video
No.4 Work motivation (3)
Contents:
Theories on incentive; Maslow's hierarchy of needs, Alderfer's ERG theory, McGregor's X-Y theory, Argyris' immaturity-maturity theory
No.5 Work motivation (4)
Contents:
Incentive and Job Satisfaction; Hertzberg's Two-factor theory, Job satisfaction, QWL
No.6 Personnel evaluation system
Contents: Personnel evaluation
No.7 Human Resource Management (1)
Contents: Job training, Job systems, Salary systems, Job aptitude
No.8 Human Resource Management (2)
Contents: Discussion and presentation on white-collar exemption
handout: an article on white-collar exemption
No.9 Human Resource Management (3)
Students' presentation:
Is the economy really good? A comparison with other periods of economic growth, overseas demand-led economy, etc.
Contents:Selection theory, evaluation of action
No.10 Leadership (1)
Contents:Leadership theory
No.11 Leadership (2)
Contents:
Video (NHK Special program 6/3/2001 Discussion on Uichiro Niwa, President of Itochu Corporation, and his views on leadership.
No.12 Leadership (3)
Contents:
Vertical dyad linkage model, Idiosyncrasy credit hypothesis, Kozo-kowashi (Furukawa, 1988)
No.13 Stress at workplace
Contents:
Selye's Stress theory, Lazarus' system theory, Holmes and Rahe's Social readjustment rating scale
No.14 Anti-stress support
Contents: social support
No.15 Comprehension test
Grading
Students' grading will be based on the following:
Class attendance, active participation and interest, final exam
Content of the final exam
In your own words, explain, and write your own views on a particular subject you studied in this course. Exam time is 50 minutes.
---