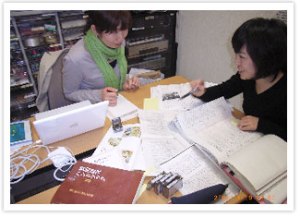 Course Overview
At Nagoya University's Educational Methods Research Department, through championing academic study of education, lesson analysis has been a pillar of our research for over 50 years. Through these lessons, we will learn lesson analysis of lessons in order to grasp what sort of things students learn, and thus what they gradually come to achieve.
Key Features
We place importance on actual practical lesson analysis, and as such we incorporate practical tasks.
We make use of opportunities to learn together by encouraging students to mutually debate and express their opinions.
Course Aims
In these lessons, we will learn methods of analyzing teaching while gradually incorporating practice tasks. We will also enquire into possibilities and themes raised in actual lesson analysis in education research.
Textbook
We will hand out necessary teaching materials.
Assignments
Short Test
The flow of Lesson Analysis Practice
Homework: read the teaching records, write your thoughts.
Everyone: write your thoughts on labels, then stick them to a large teaching record for everyone to see. Present your thoughts.
Individually: formulate questions based on the thoughts on the teaching record
Individually: re-examine questions and clarify views on analysis
Individually: processing and treatment of the record
Individually: adding considerations and gathering them into a composition
Everyone: presentation and exchange of opinions. Especially to deepen investigation into verification of interpretations and a relative analytic view.
Course Schedule
Session
Contents
1
What is "Lesson Analysis"? -The goal of lesson analysis-
2
The modern themes of education and lesson analysis -Individual vs. group as examples of ways of living-
3
The potential of teaching -Interest and the sharing of interest-
4
The observation and recording of teaching
-The significance of research founded in reality-
5
The varied approaches to lesson analysis
-Quantitative and qualitative research-
6
Analysis of Nagoya University's teaching methods and the scientific study of education
-Verifying interpretations and the sharing/accumulation of knowledge
7
The many techniques of lesson analysis based on verbatim recording
-Articulation, graphic representation of speech, speech tables, intermediate terms-
8
Interacting with recordings of teaching
-The three steps to read between the lines of teaching recordings-
9
The potential to integrate quantitative methods into qualitative lesson analysis -Quantitative analysis of verbatim teaching recordings-
10
The principles of analysis of Nagoya University's teaching methods (1)
-Shigematsu Takayasu's envisioned study of education-
11
The principles of analysis of Nagoya University's teaching methods (2)
-Ueda Kaoru's Dynamic Relativism and the RR method-
12
Teaching research and the growth of a teacher -Teaching as a profession-
13
Lesson analysis and teaching research
-lesson analysis as a principle of teaching research-
14
Ideal coordination between research -intermediary universities and schools -Sharing awareness of the issues and the characteristic roles -
15
Teaching research and school administration
-Autonomy of schools as organizations of research-
Lecture Handouts
Note: All files are in Japanese.
Week 1
Week 2
Week 3
Week 4
Week 5
Week 6
Week 7
Week 8
Week 9
Week 12
Week 13-14
Week 15
Grading
Grading will be along the points observed below (i.e. learning activities that the teaching staff feel are important):
[Interest and Ambition] – engaging in a motivated way with your own experiences and thoughts.

[Knowledge and Understanding] – appropriately reading the literature, deepening your understanding while taking on board a diverse range of knowledge.

[Analysis and Consideration] – undertaking analysis of data and records through logical means (using framework or points of view), and making clear the characteristics of the situation. Also, deepening your thoughts, and considering collected results from as broad an outlook or knowledge-base as possible.

[Presentations and Phrases] –presenting and phrasing your own thoughts on the theme logically and effectively. Assessment will be judged according to the tasks below:

Short tests

Lesson analysis tasks and your level of achievement

End of term test
---